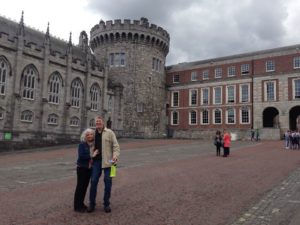 This is Part 1 of a 3 part story of my recent
Healing Trip to Ireland.
My mom was born in Cloonlavish, Knock, Mayo Ireland. My dad's parents were both born in Westmeath. My last trip home to Ireland was 19 years ago. With gratitude, my husband and I just spent 2 weeks on a healing trip to Ireland visiting my first cousins and seeing the beautiful sites of this gloriously green island of my roots.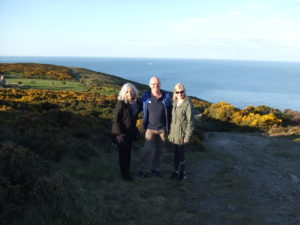 Our healing trip to Ireland started in Dublin when we landed at Dublin Airport. My cousin Noreen and her husband Gerry picked us up very early in the morning at the airport. They hosted us for 3 wonderful days at their beautiful home close to downtown Dublin. The last time that I visited them in Dublin was 30 years ago when their daughter Clare was a baby. Their son Paul was not born yet back then.
Noreen took us by bus to downtown Dublin and she showed us how to get around Dublin by foot and how to return back to their house by bus that evening. Trinity College, Dublin Castle, Ha'Penny Bridge and St. Stephen's Green were the highlights of this busy city. For 2 days we ventured in by bus to see this amazing city on our own.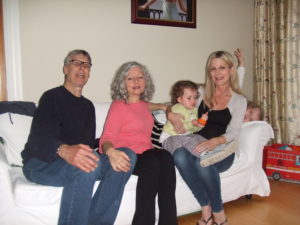 Each evening we shared a meal with the cousins back at their lovely home. We got to see beautiful Clare and meet handsome Paul before we left. They each have their own families now. It was wonderful to have quality time with them to share photos and catch up with each other's lives. My cousin Bernadette's beautiful daughter Fiona stopped by for a visit with her adorable 2 little girls. It meant so much to me to get to see her and meet her little Angels.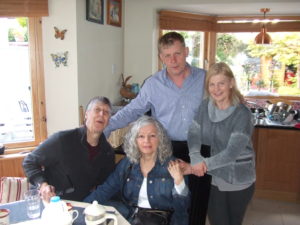 Noreen and Gerry opened their home and their hearts to us. What a great time we had. How grateful we are to them for sharing their exciting city of Dublin with us on our healing trip to Ireland!
On our last day in Dublin my cousin Pat drove several hours from Knock to pick us up and bring us all the way to Westport, Mayo for Part 2 of our Healing Trip to Ireland.
*  *  *  *  *  *  *  *  *  *  *  *  *  *  *  *  *  *  *  *  *  *  *  *  *  *  *  *  *  *  *  *  *  *
Order "Collaboration In Spirit" Meditation CD here:
*  *  *  *  *  *  *  *  *  *  *  *  *  *  *  *  *  *  *  *  *  *  *  *  *  *  *  *  *  *  *  *  *  *
Psychic Readings Seattle – Reiki Healing Seattle – Meditation Seattle
For more than 33 years I have been helping many people from all walks of life and across the world, including India, China and England. Some clients prefer to come see me in person for a Psychic Reading.
However, the majority of my clients call me for phone sessions. Intuition is unlimited as God is unlimited so it doesn't matter whether you are in the same room with me or in Hong Kong! My intention is the same – to serve as a channel of clarity and healing to assist you in all areas of your life. Doing this work makes me truly happy and I blessed to be able to help people and do what I love.
When you set up a Psychic Reading in Seattle or a phone session with me, it's best to write down your questions ahead of time. This helps focus your intention on what it you want guidance for in your life.
At the beginning of your Psychic Reading, I go deep into a meditative state and ask Spirit to allow me to be a clear and pure channel of love, healing and guidance for you. The answer to each question flows through me in words and pictures and the information received is spiritual in nature, yet practical for every day life.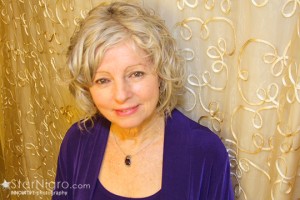 Live your true potential
Feel your own wholeness
Experience inner peace and joy
Express your creativity
Be who you really are- perfectly human and perfectly divine
For more information about Reiki Healing, Intuitive Readings and Meditation or scheduling a session, please fill out the online contact form or give Maureen a call at (845) 706-HEAL (4325).
Namaste
Love & Blessings
Maureen