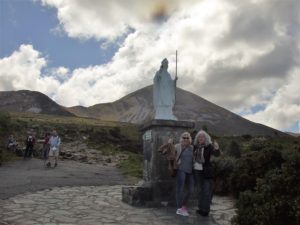 This is Part 2 of a 3 part story of my recent
Healing Trip to Ireland
On our last day in Dublin my cousin Pat drove several hours from Knock to pick us up and bring us all the way to Westport, Mayo for Part 2 of our Healing Trip to Ireland.
My cousin Mary and her husband Gerard hosted us in their gorgeous house on a hill in Westport. On my last trip to Ireland 19 years ago my niece Tara and I stayed at this house. The house has been totally remodeled into a much grander home with the same beautiful views from each window and doorway. Mary and Gerard gave us a tour of their beautiful home. Our room was so big and comfortable with huge windows where we could see miles and miles of lush green rolling hills in the distance.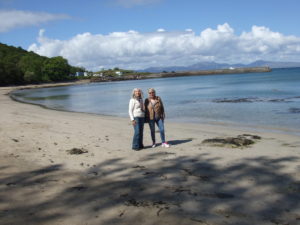 Then cousin Pat left to get back to the farm that he runs which is the farm my mom and his dad were born on. The next day Mary drove us on a personal tour of  Westport. Westport has become quite the tourist attraction since my last trip. We enjoyed Croagh Patrick – Ireland's Holy Mountain, Clew Bay, a beautiful walk on a nearby beach, the tree lined streets, great shops and Matt Malloy's Pub in the town center. Matt, a member of The Chieftains, was dancing the broom dance to traditional Irish music the evening we stopped in.
My cousins Mary and Gerard graciously took care of us in so many ways including serving a big Irish breakfast every morning. Their kindness and generosity warmed our hearts. We shared sad and funny stories of our parents and about past trips home to Ireland. We had a wonderful time with them with both tears and laughter. We are so grateful for the many ways they loved us and spoiled us! Thank you Mary and Gerard!
*  *  *  *  *  *  *  *  *  *  *  *  *  *  *  *  *  *  *  *  *  *  *  *  *  *  *  *  *  *  *  *  *  *
Order "Collaboration In Spirit" Meditation CD here:
*  *  *  *  *  *  *  *  *  *  *  *  *  *  *  *  *  *  *  *  *  *  *  *  *  *  *  *  *  *  *  *  *  *
Psychic Readings Seattle – Reiki Healing Seattle – Meditation Seattle
For more than 33 years I have been helping many people from all walks of life and across the world, including India, China and England. Some clients prefer to come see me in person for a Psychic Reading.
However, the majority of my clients call me for phone sessions. Intuition is unlimited as God is unlimited so it doesn't matter whether you are in the same room with me or in Hong Kong! My intention is the same – to serve as a channel of clarity and healing to assist you in all areas of your life. Doing this work makes me truly happy and I blessed to be able to help people and do what I love.
When you set up a Psychic Reading in Seattle or a phone session with me, it's best to write down your questions ahead of time. This helps focus your intention on what it you want guidance for in your life.
At the beginning of your Psychic Reading, I go deep into a meditative state and ask Spirit to allow me to be a clear and pure channel of love, healing and guidance for you. The answer to each question flows through me in words and pictures and the information received is spiritual in nature, yet practical for every day life.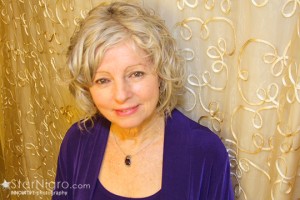 Live your true potential
Feel your own wholeness
Experience inner peace and joy
Express your creativity
Be who you really are- perfectly human and perfectly divine
For more information about Reiki Healing, Intuitive Readings and Meditation or scheduling a session, please fill out the online contact form or give Maureen a call at (845) 706-HEAL (4325).
Namaste
Love & Blessings
Maureen