This is Part 3 of a 3 part story of my recent
Healing Trip to Ireland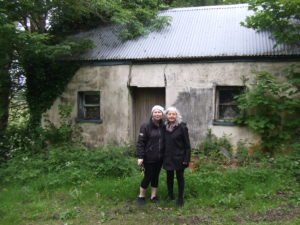 The final leg of our healing trip to Ireland was coming home to Cloonlavish, Knock the place of my mom and grandma's birth. We stopped at my cousin Bernadette's wonderful house to see her and one of her sons. Later in the trip we saw my cousin Michael and Sinead's beautiful house. My cousin Trish and her husband Joe hosted us in their grand stone home with great views of the countryside. Trish took Mark and I on a 2 hour walk down a country road that went in a huge loop, pointing out the 3 beautiful homes of cousins Michael and Margaret, Sean and Lolita's house and Kevin's house.
Then Trish suddenly pointed out an old house surrounded by trees where our grandma was born. I was overwhelmed by emotions as I always felt connected to our grandma even though she passed before I was born. Little did I know that on this trip I would be standing inside the empty old home that our grandma was born and raised in! In many ways this experience was the highlight of our trip that enabled me to reach back through the generations and imagine what life was like for our precious grandma growing up in rural Cloonlavish. Across the small road stood the remains of Trish's maternal grandma's house which means the 2 grandmas were neighbors growing up. Another pleasant surprise!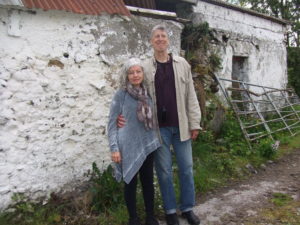 The next stop, close to Trish and Joe's house, was the farm and the remains of the house where my mother  and my cousins' dad Uncle Joe were born. This is the place I visited in 1958, my 1st trip to Ireland with my mom and my brothers Tommy and Kenny. Uncle Joe and Aunt Mary so generously hosted us in that house back then along with their little girls, Mary and Noreen and newborn baby Bernadette. I was forever changed on our first trip home as we experienced our Irish roots, my family living off the sacred land, breathing fresh air, eating food from the farm cooked by Aunt Mary in the huge fireplace. We picked blackberries, went to the bog for turf and watched Uncle Joe make hay. On Sundays we all went to mass at Knock Shrine where the Blessed Mother Mary (Our Lady of Knock) appeared to 15 witnesses in 1879.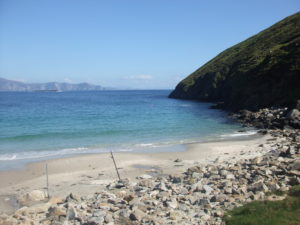 More highlights on our trip were Achill Island, the Cliffs of Moher, Cong where the Quiet man was filmed, Cong Abbey, Ashford Castle, Ballintubber Abbey in Mayo and Yeats Tower in Galway.
Our healing trip to Ireland once again has fed my soul. My husband Mark also felt so at home, loved and accepted by our cousins. The love and generosity of my family warmed our hearts completely. I feel the renewed connection to grandma, mom, Uncle Joe, Aunt Mary and all my beautiful cousins and their families. The vibrant green energy of the land fills me still, til we return home once again, please God!
*  *  *  *  *  *  *  *  *  *  *  *  *  *  *  *  *  *  *  *  *  *  *  *  *  *  *  *  *  *  *  *  *  *  *  *  *  *
Order "Collaboration In Spirit" Meditation CD here: 
*  *  *  *  *  *  *  *  *  *  *  *  *  *  *  *  *  *  *  *  *  *  *  *  *  *  *  *  *  *  *  *  *  *  *  *  *  *
Psychic Readings Seattle – Reiki Healing Seattle – Meditation Seattle
For more than 33 years I have been helping many people from all walks of life and across the world, including India, China and England. Some clients prefer to come see me in person for a Psychic Reading.
However, the majority of my clients call me for phone sessions. Intuition is unlimited as God is unlimited so it doesn't matter whether you are in the same room with me or in Hong Kong! My intention is the same – to serve as a channel of clarity and healing to assist you in all areas of your life. Doing this work makes me truly happy and I blessed to be able to help people and do what I love.
When you set up a Psychic Reading in Seattle or a phone session with me, it's best to write down your questions ahead of time. This helps focus your intention on what it you want guidance for in your life.
At the beginning of your Psychic Reading, I go deep into a meditative state and ask Spirit to allow me to be a clear and pure channel of love, healing and guidance for you. The answer to each question flows through me in words and pictures and the information received is spiritual in nature, yet practical for every day life.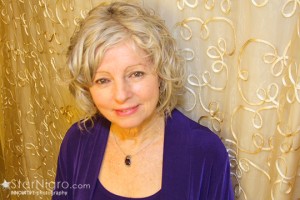 Live your true potential
Feel your own wholeness
Experience inner peace and joy
Express your creativity
Be who you really are- perfectly human and perfectly divine
For more information about Reiki Healing, Intuitive Readings and Meditation or scheduling a session, please fill out the online contact form or give Maureen a call at (845) 706-HEAL (4325).
Namaste
Love & Blessings
Maureen