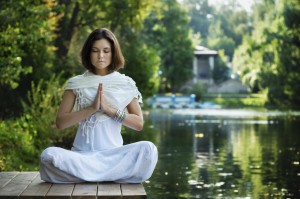 My Into the Mystic Classes includes Gratitude which means appreciation, thankfulness, acknowledgement. It also means recognition, rendering credit and praise to another.
Gratitude is expressed in French by the word "merci," in Spanish "gracias," in Italian "grazie," and in German it is "danke."
Folded hands with palms facing or prayer pose is the body language we use to symbolize gratitude. For some it is falling on one's knees that is an expression of thanksgiving and praise.
"Wake at dawn with a winged heart and give thanks for another day of loving." Kahlil Gibran
Jewel for Self Discovery
Using gratitude as a jewel for self discovery enables us to transform our thinking and therefore our reality. We can go from the frustrations of delay to the opportunity to breathe, relax and be still, connecting to the Divine within. The drudgery of chores becomes the chance to stretch and exercise the body when we add gratitude. Instead of seeing the glass as half empty, we see the glass as half full.
Challenges with gratitude added, enable us to see the gift presented to us by the Universe when we are willing to see beyond our limited thinking and let go of limiting beliefs. When we change our mind we change our perception. When we change our perception we change our reality.
Practice of Gratitude
Start your day with the practice of gratitude. Pay attention to your thoughts and consciously transform them with an attitude of gratitude, creating an affirmation. For example, go from "I'm too tired to get up this early," to "I'm so grateful for the chance to start my day early."
Feel the internal shift that your practice of gratitude creates within you and keep going with your affirmations. Appreciate everything around you as you notice the calmness and joy slowly rise up inside you.
With your practice of gratitude you see that the clock that wakes you, the hot coffee or tea that warms you and the sleepy faces of your loved ones that greet you are there to be praised. "How wonderful it is to awaken to a quiet house." Be thankful for the birds chirping or the morning traffic outside. Everyone and everything in our life gives us the chance to acknowledge God within us and in them, experiencing oneness.
Gratitude and Divine Creating
Gratitude and divine creating go hand in hand. The grateful heart sees the goodness in oneself, in people and in the world. When we see how blessed we are our heart expands. Our beautiful expanded hearts are the fertile soil upon which we create in the material world. Love flows from our joyous hearts enveloping all of humanity, and Mother Earth on golden beams of Divine love and light.
What we focus on we create more of so that we are on a higher internal vibration. More ease and more of what we need and desire flows back to us from gratitude and Divine creating. As we continue to consciously create we have more to give to our fellow brothers and sisters on the planet, our loved ones and ourselves.
Gratitude and Giving Thanks
Gratitude and giving thanks in advance for what we want is another important part of the process of divine creating. The praise given for what God is manifesting through us affirms our trust in God's benevolence. The richness and abundance of the Universe is flowing in us and all around us. Then we organically magnetize more to ourselves with ease and flow.
When we focus our intention on gratitude and giving thanks for what has not arrived yet we are working with the Divine. We are truly trusting that what we are intending to create it is on it's way. All we need to do is to be ready to receive it with an open heart.
When we keep our hearts and minds open to what is so freely available to us through gratitude and giving thanks, we are in the flow. Receiving our birthright of love, peace, joy, abundance and creativity anchors us in the reality of our true nature as spirit beings.
We are love made manifest in flesh. We are at one with God, all creation and the universe. The doorway to this awareness is gratitude. And so it is.
More Related Articles:
Gratitude in the Midst of Chaos
*  *  *  *  *  *  *  *  *  *  *  *  *  *  *  *  *  *  *  *  *  *  *  *  *  *  *  *  *  *  *  *  *  *  
Order "Collaboration In Spirit" Meditation CD here:
*  *  *  *  *  *  *  *  *  *  *  *  *  *  *  *  *  *  *  *  *  *  *  *  *  *  *  *  *  *  *  *  *  *  
CD Testimonials:
"Maureen and Ferenz's meditations and music are exceptionally healing for the very reason that they allow the listener to do nothing but receive. We surrender and let the healing be done through us, and so remember that, as Spirit, we are always whole and One with the Divine."
Helen D. Vandeman, author, Reality Is But a Dream: A Multicultural Exploration
*          *          *          *          *          *          *          *          *          *
"I am treasuring my moments with Maureen and Ferenz on the beautiful meditation CD.
It is peaceful and rich with soothing imagery and healing.  A true gift for the spirit and soul."
Rita Marsico, Special Education Teacher, Saugerties, NY
*          *          *          *          *          *          *          *          *          *
"My heart is filled with such gratitude for the birth of this creation. The combination of Maureen's voice and Ferenz's music blends so beautifully to uplift and heal. It is to be enjoyed."
Josie Nigro, Spiritual Life Coach and Healer, Woodstock, NY
*          *          *          *          *          *          *          *          *          *
"When I listen to " Collaboration in Spirit" I feel a shift in My spirit. I feel like I'm floating WITH Spirit. At the same time I feel grounded in my self, in love, and one with ALL that is. I feel the sun shine even when it's raining! It's SO healing. Thank-You Maureen, Ferenz, and Spirit."
Debra J. Brooks, Artist, Catskill, New York
*          *          *          *          *          *          *          *          *          *
" "COLLABORATION IN SPIRIT" with Maureen Brennan Mercier is one of the most authentic and heart rendering Spiritual Channeling that I had the honor to listen to and absorb.  Maureen always comes from her heart in a gentle guided wisdom that is abundantly healing and through the beauty of her voice captures the voice of all our Ancestors.  She brings you to the recesses of your soul and through her guidance enables you to continue on your journey in an enlightened way.  Please embrace this gift she humbly shares with us.
Ferenz Kallos is a beautiful Spiritual being who is blessed with musical "magic." His music is of the Angels and Higher Beings which adds further beauty and brings us to a place of higher consciousness and allows us to go to who we are truly meant to be."
Valerie Stiehl, Spiritual Facilitator and Author of "Spirit Speaks. Are You Listening?", Woodstock, New York
*          *          *          *          *          *          *          *          *          *
Intuitive Readings Seattle – Reiki Seattle – Meditation Seattle
For more than 32 years I have been helping many people from all walks of life and across the world, including India, China and England. Some clients prefer to come see me in person for an Intuitive Reading.
However, the majority of my clients call me for phone sessions. Intuition is unlimited as God is unlimited so it doesn't matter whether you are in the same room with me or in Hong Kong! My intention is the same – to serve as a channel of clarity and healing to assist you in all areas of your life. Doing this work makes me truly happy and I blessed to be able to help people and do what I love.
When you set up an Intuitive Reading in Seattle or a phone session with me, it's best to write down your questions ahead of time. This helps focus your intention on what it you want guidance for in your life.
At the beginning of your Intuitive Reading, I go deep into a meditative state and ask Spirit to allow me to be a clear and pure channel of love, healing and guidance for you. The answer to each question flows through me in words and pictures and the information received is spiritual in nature, yet practical for every day life.

Live your true potential
Feel your own wholeness
Experience inner peace and joy
Express your creativity
Be who you really are- perfectly human and perfectly divine
For more information about Reiki Healing, Intuitive Readings and Meditation or scheduling a session, please fill out the online contact form or give Maureen a call at (845) 706-HEAL (4325).
Namaste
Love & Blessings,
Maureen