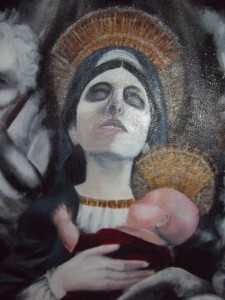 Honor the Divine Mother as she is the embodiment of the Sacred Feminine energy. The Divine Mother's qualities are unconditional love, compassion, mercy, strength, patience, forgiveness and accessibility to all in need.
The Divine Mother Mary was a natural part of my life growing up as a Catholic. Both of my parents respected and loved the Divine Mother and depended on her to help them with the of raising five children.
My parents had faith in the Blessed Mother's ability to lift them up with her love and compassion. My mother looked to the Divine Mother for clear direction in problem solving for the family.
Divine Mother as Mary, the Sacred Feminine aspect of God is an ascended master available to each of us as the great comforter and counselor. When we honor the Sacred Feminine we help to balance the male female energy within each of us and in the universe.
Kwan Yin is another Sacred Feminine Goddess. She has the same qualities of the Divine Mother especially compassion for those who suffer. Kwan Yin is also called "the Mother of all Buddhas."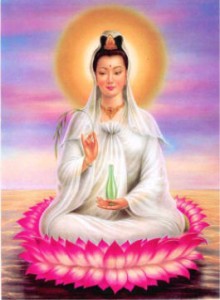 Devotee of the Sacred Feminine
Each morning when I meditate I gaze upon the image of the Divine Mother Mary which hangs in my healing room. As a devotee of the Sacred Feminine Goddess I experience her love, strength, patience and accessibility to me.
As a devotee of the Sacred Feminine these wonderful qualities are growing and developing in me now which is process that occurs organically on the path of devotion.
The Divine Mother's wisdom has guided me for most of my adult life through so many challenging times. Trusting that she is there for me gives me strength and comfort. I am so grateful to her for her guidance and support.
Mother Mary's Words of Wisdom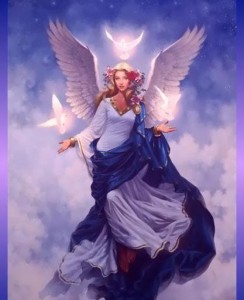 Many years ago when I was married to my first husband and pregnant with our first child I had difficulty sleeping. In fact I hadn't slept for more than a few hours over a three day period. My husband and I were in times of trouble.
On the third sleepless night I asked Mother Mary for her help. As I closed my eyes in prayer the the Divine Mother appeared to me holding baby Jesus. Then she slowly moved back and came forward again this time holding my unborn child in her arms.
Her words of wisdom to me were : "Rejoice in your motherhood as I rejoiced as the mother of Jesus." My whole body relaxed with her comforting words of wisdom.
Peacefully I fell asleep that night feeling cradled in the love and compassion of Mother Mary's words of wisdom. That was my first spiritual experience of the Divine Mother who was there for me when I needed her the most as a new mother-to-be.
Thank you Divine Mother, Sacred Feminine, for your words of wisdom, unconditional love, compassion, and mercy. May these qualities grow in me and in all of my brothers and sisters on Mother Earth.
More Related Articles:
Sacred Feminine – Qualities of the Divine Feminine Goddess
At One with Mother Earth – Goddess Gaia
Intuitive Readings Seattle – Reiki Healing Seattle – Meditation Seattle 
For more than 29 years I have been helping many people from all walks of life and across the world, including India, China and England. Some clients prefer to come see me in person for an Intuitive Reading. However, the majority of my clients call me for phone sessions.
Intuition is unlimited as God is unlimited so it doesn't matter whether you are in the same room with me or in Hong Kong! My intention is the same – to serve as a channel of clarity and healing to assist you in all areas of your life. Doing this work makes me truly happy and I blessed to be able to help people and do what I love.
When you set up an Intuitive Reading in Seattle or a phone session with me, it's best to write down your questions ahead of time. This helps focus your intention on what it you want guidance for in your life.
At the beginning of your Intuitive Reading, I go deep into a meditative state and ask Spirit to allow me to be a clear and pure channel of love, healing and guidance for you. The answer to each question flows through me in words and pictures and the information received is spiritual in nature, yet practical for every day life.
I encourage all of you to:
Live your true potential
Feel your own wholeness
Experience inner peace and joy
Express your creativity
Be who you really are- perfectly human and perfectly divine
For more information about Reiki Healing, Intuitive Readings and Meditation or scheduling a session, please fill out the online contact form or give Maureen a call at (845) 706-HEAL (4325).
Namaste
Love & Blessings
Maureen