Reiki Healing Classes
For 17 years now I have been teaching Reiki Healing in 3 classes. The following is a brief summary of each Reiki Healing Class.
Reiki I is focused on learning self healing and healing others. The student receives an attunement which activates the Reiki Healing energy so that it is channeled through the hands. You receive a Reiki I certificate at the end of the class.
Reiki II is focused on distance healing. You learn 3 symbols to use in Reiki Healing. You receive an attunement. At the end of your Reiki II class you will receive a Reiki II certificate.
Reiki III is focused on teaching Reiki Healing. The student learns 2 more symbols to use for passing attunements on future students of Reiki Healing. You receive another attunement and a Reiki III certificate at the end of the class. You are now a Reiki Master.
Of course it is important to study and practice Reiki Healing at each class level. Once you reach the Reiki Master level you continue to expand your Reiki Healing practice through your own efforts, intention and commitment.
Reiki Lineage
The Reiki Healer receives training and attunements from a Reiki Master so that the healing energy is activated and channeled through the palms of the healer's hands.  Reiki is passed down through lineage from Reiki Master to healer for generations. This is called Reiki lineage.
After completing Reiki Healing classes with me I give my students the list of our Reiki Lineage which comes directly from Dr. Usui. I am 7th generation. The new Reiki Healer becomes 8th generation in Reiki Lineage.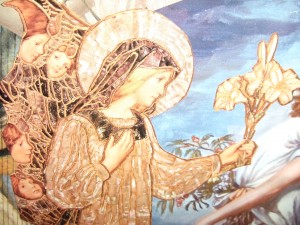 Intention
The Reiki Healer stays open in heart and mind. Focused on the intention to heal is the key. Knowing that we are whole is important. Our being is ever seeking to remain in balance in our body, mind, emotions and spirit.
Keeping this balance and intention is the pathway to enlightenment which is God consciousness.  Seeing and loving the Divine in ourselves and others we become free to be who we truly are – SPIRIT.
Reiki Healing for Fibromyalgia and Chronic Fatigue Syndrome
The book Alternative Treatments for Fibromyalgia and Chronic Fatigue Syndrome by Mari Skelly and Helen Walker is a wonderful resource book about complimentary healing modalities. In chapter 11, Energetic Healing,  I wrote about Reiki Healing. Reiki Healing for fibromyalgia and chronic fatigue syndrome is so effective in relieving the pain of these two maladies.
Many clients report feeling reduced inflammation in their joints, a rise in energy level, an improvement in their immune system and feel deeply rested after receiving a Reiki Healing for fibromyalgia and chronic fatigue syndrome. These positive results demonstrate once again how gentle yet powerful Reiki Healing for fibromyalgia and chronic fatigue syndrome is for people who live with these diseases.
*  *  *  *  *  *  *  *  *  *  *  *  *  *  *  *  *  *  *  *  *  *  *  *  *  *  *  *  *  *  *  *  *  *  *  *  *  *
Order "Collaboration In Spirit" Meditation CD here: 
*  *  *  *  *  *  *  *  *  *  *  *  *  *  *  *  *  *  *  *  *  *  *  *  *  *  *  *  *  *  *  *  *  *  *  *  *  *
Psychic Readings Seattle – Reiki Healing Seattle – Meditation Seattle
For more than 33 years I have been helping many people from all walks of life and across the world, including India, China and England. Some clients prefer to come see me in person for a Psychic Reading.
However, the majority of my clients call me for phone sessions. Intuition is unlimited as God is unlimited so it doesn't matter whether you are in the same room with me or in Hong Kong! My intention is the same – to serve as a channel of clarity and healing to assist you in all areas of your life. Doing this work makes me truly happy and I blessed to be able to help people and do what I love.
When you set up a Psychic Reading in Seattle or a phone session with me, it's best to write down your questions ahead of time. This helps focus your intention on what it you want guidance for in your life.
At the beginning of your Psychic Reading, I go deep into a meditative state and ask Spirit to allow me to be a clear and pure channel of love, healing and guidance for you. The answer to each question flows through me in words and pictures and the information received is spiritual in nature, yet practical for every day life.
Maureen encourages all of her clients to:
Live your true potential
Feel your own wholeness
Experience inner peace and joy
Express your creativity
Be who you really are- perfectly human and perfectly divine
Maureen Brennan Mercier
If you would like more information about:
or to schedule a session with Maureen by phone or in person give her a call at (845) 706-HEAL (4325).
Namaste
Love & Blessings,
Maureen